WooHoo I am on time this week!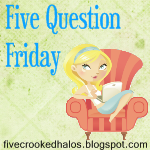 1.
What is your favorite thing about summertime?
Not having to wake up at the crack of dawn to get the kids off to school!
2. What is your ideal retirement location (if money didn't matter)?
We would like to buy the PERFECT RV and travel the country visiting our children, see the sights, hide from civilization! Moving according to the weather. No strings, no taxes!
3. Do you live in the same town you grew up in?
No, but about 20 minutes from it.
4. What nervous habit did you have as a child that you kicked to the curb before becoming an adult?
Didn't really have a nervous habit. Not one that I've kicked anyway, LOL!
5.
What is the most embarrassing thing that happened to you while on the job?
Hmm...my pants splitting when I was squatting down counts I think!