Yay
! It's Friday!! Oh wait, not its not, it's Wednesday, I missed Friday.
Sorry. Anywhooo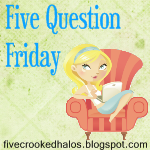 Rules for 5
QF
:
Copy the following questions to your blog post, answer them, then
go here to
link up!
If you don't have a blog, but would still like to play along, feel free to leave your answers in the comments of this post or any post along the way!
Now...onto the questions!
Questions for Friday, June 11
th
:
1.
What do you think makes a good friend, or friend
ship
?
Comfort, honesty, loyalty, humor, history.
2. What is the last thing you bought & later regretted?
A set of Copic pens from a local stamp shop. Then I went home and saw they were WAY discounted with free shipping on the Copic website.
3. Have you ever had a prank played on you?
I used to get phone pranks years ago when I babysat. Used to freak me the heck out!
4. What is your favorite theme park?
Six Flags Great Adventure in Jackson, NJ. Because it is close. And I grew up in that park and I know that layout like the back of my hand.
5. Have you ever seen someone else give birth?
Nope. Never. Never wanna. Didn't want to watch mine, keep the mirrors to yourself doc. That's a picture I just don't want to remember.